Written by: Amy Rock
Given the recent mass shooting at Michigan State University and an overall increase in active shooter events across the country, many have likely wondered: How common are mass shootings on college campuses?
Unlike K-12 schools, no public government database tracks shootings at colleges. These incidents are most commonly tracked by researchers, journalists, and nonprofit organizations. Although not all sources agree, for this article's purpose, we will define mass shootings as incidents in which three or more people died, not including the shooter. Using those parameters, according to research conducted by The Violence Project and Best Colleges, at least 98 people have been killed in 12 mass shootings at U.S. colleges since 1966.
Although 12 might not sound like a lot since we are considering 57 years of data, 75% of those incidents occurred in the last 16 years alone. Here's a breakdown of the tragedies:
1966: University of Texas at Austin; 15 killed and 31 injured; shooter was enrolled in the school and did not target specific victims
1976: California State University, Fullerton; 7 killed and 2 injured; shooter was a custodian at the campus library and largely targeted other library employees
1991: University of Iowa; 5 killed and 1 injured; shooter was a post-doctoral student at the school and largely targeted colleagues in the physics department
2007: Virginia Tech; 32 killed and 23 injured; shooter was a student at the school and did not target specific victims
2008: Northern Illinois University; 5 killed and 16 injured; shooter was a former student at the school and did not target specific victims
2010: University of Alabama in Huntsville; 3 killed and 3 injured; shooter was a professor at the school and indiscriminately targeted co-workers
2012: Oikos University; 7 killed and 3 injured; shooter was a former student at the school and did not target specific victims
2013: Santa Monica College; 5 killed and 3 injured; shooter was a former student and did not target specific victims on campus
2014: University of California Santa Barbara; 3 killed and 13 injured; shooter had no connection to the school
2015: Umpqua Community College; 9 killed and 9 injured; shooter was a student at the school and did not target specific victims
2022: University of Virginia; 3 killed, 2 injured; shooter was a student at school and had personal relationships with the victims
2023: Michigan State University; 3 killed and 5 injured; shooter had no connection to the school
Unequivocally, the type of gun violence that garner the most attention is mass shootings. However, while devastating, mass shootings make up a very small portion of incidents of gun violence on college campuses.
Excluding mass shootings and looking at more recent years only, there have been at least 308 instances of gunfire on college campuses from 2013 to 2022, says Everytown for Gun Safety. Resulting in 94 deaths and 115 injuries, these shootings include individual attacks, unintentional gunfire, legal interventions (resulting in 5 deaths), self-harm, and other instances. See the chart below for more details.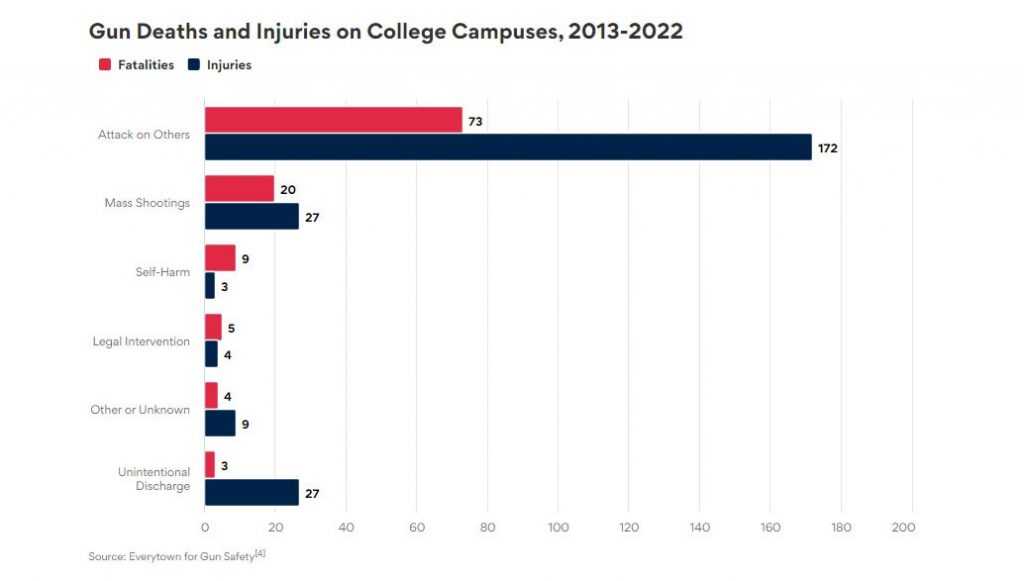 Although not as recent, in 2016, a more thorough study on college campus shootings was released by the Citizens Crime Commission of New York City. Those findings can be reviewed here.
Preventing and Mitigating College Shootings
Overall, colleges are naturally harder to protect than K-12 schools given their size and inability to be fully enclosed. There are also hundreds of public colleges and universities, meaning anyone can generally walk onto campus without impediment. Sure, there are areas people are restricted from entering if they are not students or staff, but many common areas on these campuses, such as student unions and libraries, can be accessed by anyone without any sort of credential — like the tragedy at MSU.
All types of campuses have unique challenges in protecting their people. In the 12 incidents mentioned above, five shooters were current students, three were former students, two were employees, and two had no connection to the school at all, showing mass shooting threats are often unpredictable and can be carried out by people of all ages and backgrounds.
However, there are policies and procedures that have proven to reduce the chances of gun violence on college campuses and that ensure damage and loss of life are mitigated if an incident does occur. The promising news is that more and more colleges and universities, particularly those that rely on federal funding, are taking these threats seriously by regularly implementing and improving these leading practices.
A detailed list of these recommendations can be found here, but below is a brief overview:
Conduct a campus security site assessment
Hire qualified and experienced security contractors, systems integrators, and/or consultants who understand your type of campus
Improve access control
Maintain or upgrade security cameras
Confirm your emergency notification systems have adequate coverage
Create a multi-disciplinary threat assessment and threat management team
Train students, faculty, staff, and clinicians how to properly identify and respond to active shooters
Regularly conduct drills and exercises that address a wide variety of hazards and incidents, not just active shooters
Train faculty, staff, administrators, and public safety officers on verbal de-escalation techniques
Conduct background checks on all faculty, staff, volunteers, administrators, and vendors
Have on staff enough campus psychologists, social workers, and counselors so individuals exhibiting concerning behavior get the help they need before they resort to violence against themselves, against others or both
There is no one sure way to prevent gun violence but a well-rounded response plan for all emergencies, thorough and intentional mitigation strategies, threat assessments, security technologies, and the involvement of all campus stakeholders are essential.
Although the full details of the MSU tragedy and subsequent response have not come to light yet, each school tragedy has offered a lesson on how to better protect school campuses and recover from incidents. We are hopeful that the campus safety and security community will honor the lives lost and impacted by the MSU shooting by enacting real change based on lessons learned.
Article reprinted with permission from Campus Safety Magazine (http://www.campussafetymagazine.com/). To sign up for their eNewsletter, visit https://www.campussafetymagazine.com/newsletter-subscription/