How it Works
Our unique custom guides are professionally presented organizational folders made of premium grade, soft vinyl. These versatile products provide a single printed source to highlight all of the information that your personnel or visitors would need.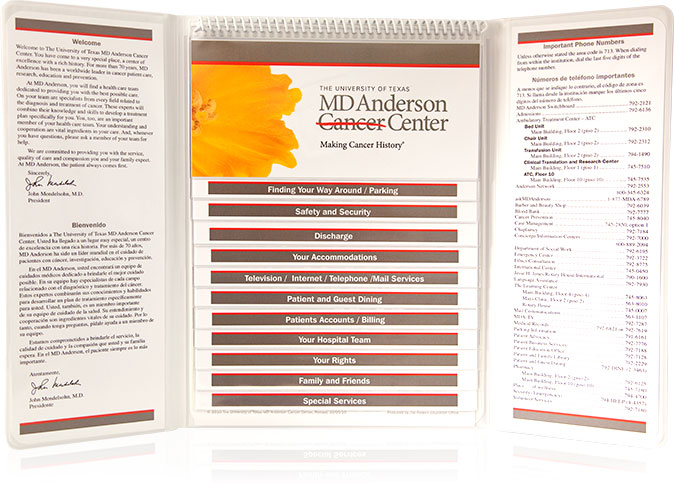 Customized to your Identity
You may select vinyl and ink color to compliment your organization's colors or room decor. Feature your logo and identity branding on your custom guide.
User Friendly
Our guides organize and separate information on individual cards for easy location. Users find what they're looking for because each card is clearly identified by a bold title.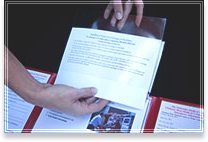 Easily Updated
You'll never have to put up with outdated information again. Reprint only the cards that need updating. When you find you need to revise information, just note the changes and send it to us. It's a real time and money saver.
Easy to Clean
All surfaces are vinyl for easy cleaning; all seams are sealed to keep out moisture. Materials and inks used are impervious to cleaning solutions. Housekeeping will find the guides as easy to clean as any other room or office accessory.
Versatile
The total printing surface is much greater than that of a booklet. Larger type may be used to improve readability. Maps and illustrations offer more detail.
We offer a variety of pocket set configurations to accommodate more information or inclusion of 2 or more languages.
Economical
Facilities using the Patient & Visitor Guides typically save 50 to 75 percent in print expenses compared to a traditional patient handbook or packet. Facilities using the Emergency Preparedness and Infection Control guides will find them to be incredibly cost effective as you no longer have to reprint your entire guide when a change occurs, nor do you have to print excess guides to replace those that are lost. The Individual codes or responses can be updated as changes occur.

Environmental Impact Reduction
Because of the durability and protection of the vinyl folder and clear vinyl pockets your guides will last many years. They also help the environment by eliminating thousands of pounds of printed literature waste.

At GCC we have a simple philosophy, "give our customers exactly what they want."
That is our Plain Language Guarantee, you can find out more about how we stand behind our products by visting our guarantee page.
Need help deciding which guide is best for you? Call us at 1-800-637-8525 or send us a message today!
| | | | | | | | | |
| --- | --- | --- | --- | --- | --- | --- | --- | --- |
| Fully customized vinyl information directories for your patients and their visitors. They are easy to update and easy to use. | | Fully customized quick reference guides to help keep your staff prepared for emergencies. | | Fully customized quick reference guide to help keep your staff prepared for safe infection prevention and control procedures. | | Protect your investment by utilizing one of our various mounting systems. | | Customized products including 3-Ring Binders, Sports Memory Books, Menus, Hotel Directories, and more… |